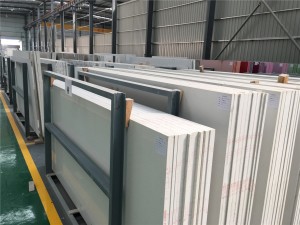 StoneMarkt Co., Ltd. also invest in quartz stone,as a manufacturer as well as China Quartz Stone provider. As a Qualified Manufacturer in China of Quartz Stone, We sincerely present China Quartz Stone in slab form, Quartz Stone Countertop for kitchen and Quartz Vanity Top.
Our service includes
1. Manufacturing quartz stone slab / tile
2. Fabricate quartz surface countertop / vanity top / table top
3. Standard wood package or customized package
4. Customized Logo Printed / Sprayed / Labeled
5. OEM Color / Design
6. Stock slab retail
7. Prefabricated top retail
8. Other service related to the product or projects
Slab size: 3000*1400mm / 3200*1600mm / other sizes available
Thickness: 12/15/18/20/25/30mm
Product Information
Ingredient

Natural Quartz

93% – 94% (purified)

Unsaturated polyester resin

4% – 5%

Color and antibiotic substance

2%

Slab Size

3000*1400mm, 3200*1600mm, other sizes

Thickness

12, 15, 18, 20, 25,30mm

Cut-to-size

400*400mm, 600*600mm, 800*800mm, other sizes

MOQ

150 SQM per Color/Thickness

Lead Time

10 to 30 days depending on the order quantity

Loading Volume (20GP, 21TON)

3000*1400mm/ 3200*1600mm

12mm

180 pcs / –

15mm

140 pcs / 115 pcs

18mm

117 pcs / 96 pcs

20mm

105 pcs / 86 pcs

25mm

83 pcs / 68 pcs

30mm

70 pcs / 56 pcs

Slab Package

Wooden frame package

Tile Package

Wooden crate package
Manufacturing Process
Classified & Purify
Raw materials are classified and Purified to ensure the quality before mixing.
Mixing
Raw materials are fed into mixers and blended together. Different colors have different time-table.
Molding & Pressing
The mixture is poured into mold and formed into slab sizes, then pressed under a condition of vacuum and vibration process.
Heating
The unfinished slabs are moved to the kiln and heated to give a ultimate strength and solidity.
Polishing
Slabs are then gauged, calibrated and polished.
Quality Inspection
Slabs will need to pass the quality inspection before packed and labeled.